SAP S/4HANA Overview
The Digibee 6-step process to de-risk and speed up your SAP S/4HANA Migration
Learn how Digibee can get your integrations up and running in weeks, not months.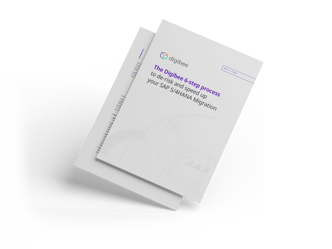 SAP S/4HANA Transition Scenario
This six-step methodology was inspired by the process by which SAP recommends customers implement their SAP S/4HANA movement program.
Learn how simple the process is, with Digibee building the first processes for you and your team.
This whitepaper will dive into:
The Digibee differentiators
The methodology that was inspired by the SAP recommended process
How Digibee completed an SAP S/4HANA migration project ahead of time and under budget by 30%
Download your whitepaper today and discover the SAP S/4HANA essentials.