How Enterprise Integration Services Solve the Talent Shortfall
High-tech talent is hard to find – is your company prepared to handle the shortfall?
By 2030, a shortage of skilled tech professionals could cost the US

$162 billion annually.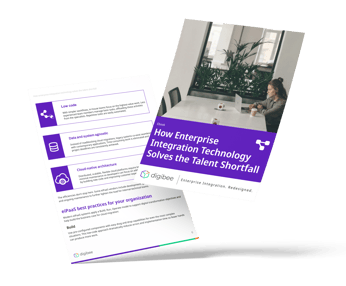 With tech talent in high demand, companies must optimize their existing workforce.
Enter enterprise application integration.
The right enterprise application integration solution can help you:



Attract and retain talent

Improve end-user experiences

Discover how Digibee's innovative eiPaaS can help you weather the IT talent shortfall with enterprise application integrations that reduce senior developers' workload so you can continue to grow and innovate.
Download your copy of How Enterprise Integration Technology Solves the Talent Shortfall to learn more.