Discover the Total Economic Impact of a Digibee Partnership
Digibee's eiPaas has an ROI of 232% and a payback period of under 6 months.
Enterprise integration doesn't have to be costly, disruptive, or risky.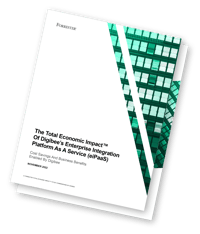 Digibee makes integration faster, simpler, and more affordable.
According to Forrester Research, Digibee customers benefit from:

Why spend more for inferior results? Digibee isn't just an eiPaaS provider – we're an integration partner.
Download the Forrester TEI Report to see why we're different.
Learn how to leverage all the benefits of integration!